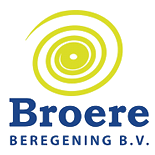 Broere Beregening
Bloemendaalseweg 4a
2741LE Waddinxveen
The Netherlands
Broere provides optimal irrigation systems, perfectly adapted to the needs of your crop and the geographical particularities. Broere brings the entire watering process to your desktop, including the storage of water, filtration and fertilization.
Also Broere focuses on more complicated water management systems like Hydroponics cultivation, fresh water lenses, drainage infiltration systems and drip irrigation projects in all sorts and sizes, including fully solar powered water management systems.
Having its own design department and a highly skilled and experienced team of in house consultants, Broere is able to deliver any customized solution, in close cooperation with its clients.
Broere has been acknowledged as one of the global trendsetters in the field, receiving various nominations for innovations, especially in the areas of drain infiltration systems, low volume drip and solar drip irrigation.
Broere's expertise has allowed it to expand its activities internationally, currently providing services and base products to customers in 17 countries across the world.
Broere's irrigation solutions can be implemented on-site by their own specialists or by using local contractors, while guaranteeing support during implementation and after completion. The systems are set up in a manner that allows on-line management, allowing Broere to assist fast and accurately via internet or on-site visits.